Introduction
The smart city of Nava Raipur Atal Nagar came into existence after the birth of the new state of Chhattisgarh on 1st November 2000. Initially, Raipur was named its capital which has been for many decades, a vibrant market place in central India. After several debates and discussions, the people of Chhattisgarh and its political leaders arrived at a consensus on building a large greenfield city close to Raipur. Thus,Nava Raipur Atal Nagar served as the administrative capital of the state and catered to the infrastructural needs of industry and trade in the region. It has now developed into a world class smart city with state of the art infrastructure along with social cohesion and local inclusiveness. Migration towards cities have put immense pressure on the infrastructure resulting in unplanned urbanization. Resources were not managed efficiently resulting in wastage and increased pressure on the administration in terms of optimum utilization of resources. Considering these issues, Government of Chhattisgarh decided to build Nava Raipur Atal Nagar as a new world-class smart city which is modern but is built on green norms. NRANVP started with preparation of development plan with the help of a number of competent city planners, professional consulting organizations, special interest groups and elected representatives. This city has been successful in meeting the key schedule of its development plan and has so far developed major section of its physical, social infrastructure and a Smart City System by developing ICT infrastructure for efficient city operations, optimization of available resources and delivering better services to its citizens, communities, business and various stakeholders.
This ICT enabled Smart City System would help NRANVP in:
Adoption of innovative technologies to improve the city operations
Provide real-time data on operations and maintenance of city infrastructure and services
Realize efficiencies of service delivery system
Enhancing security of residents of the city
Enhancing the quality of life for citizens
Strategy to drive the Nava Raipur Atal Nagar City Vision

Smart Infrastructure Development
The planning of infrastructure has been done using state of the art technology as well as careful use of natural resources. NRANVP has envisaged the development of city on self-sustainable financing model. Various infrastructure projects like city level water supply, logistics hub and real estate projects like hotel, golf course, themed township, sports city, etc. are being developed. This infrastructure was envisioned as ICT friendly in the development plan itself and subsequently, when SMART city initiative was introduced by Government of India, the adaption to the same easily materialized.
Transportation System
The transportation network for NRANVP was based on the concept of accessibility, affordability, equitable and safe mobility. 100km of four and six lane city level roads have already been constructed with 55km of LED street lights. 55 kms of Non-Motorised Transport (NMT) cycling track and pedestrian pathway built to make Nava Raipur Atal Nagar a pedestrian and cycle friendly city.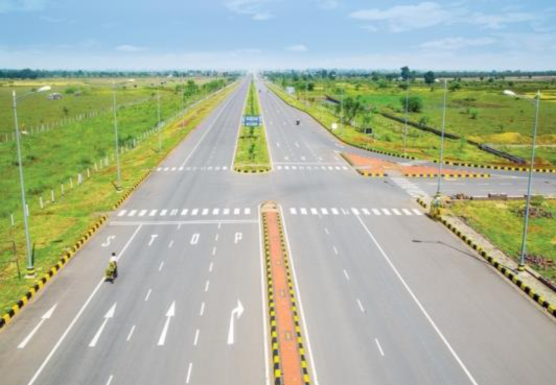 Power Supply
All the power supply network in the city is underground. The focus has been to make power supply available 24*7, reduce transmission and distribution loss. NRANVP intends to increase use of renewable energy resources and continue to achieve more in this sector. Alternative energy is also being used and the new administrative block– Mahanadi Bhawan – has a captive 1.1MW of solar power plant that provides for 25% of its electricity needs. Some of the key features of the smart energy system are to reduce redundancy, underground cable network, solar panels, wind powered street lights (pilot project), intelligent street light management system, smart meters, and electrical charging stations. 14 numbers 33KV electrical sub-stations and all underground networks within the city have been implemented. Ring main network at sector level and city level is planned as a backup for the existing power supply.
Water Supply
Water treatment plant has been set up and treated water is supplied to the residents. Total 104 MLD Water Treatment Plan (WTP) has been proposed for Nava Raipur Atal Nagar out of which 52 MLD plant is functional since 2015. Existing system has been upgraded and SCADA system has been set up to increase the system efficiency by provisioning of 24x7 fully pressurized Water Supply System, for real time monitoring, automatic meter reading and its integration with billing software.
Drainage and Sewerage System
Nava Raipur Atal Nagar is covered with 100% piped domestic waste water collection thereby making it a Zero Discharge City. Storm water, sewerage, recycled waste water networks, decentralized STPs and sensors for monitoring have already been implemented. The recycled water is consumed for flushing, irrigation purposes and gardening. Five Sewerage Treatment Plant (STP) have been built in Nava Raipur Atal Nagar out of which four modular STPs are Sequential Batch Reactor (SBR) and one is Membrane Bio Reactor (MBR) for Capitol Complex.
Social Infrastructure
The residential sectors have been planned on the neighbourhood concept to provide world class education, health and recreational facilities for the region through various financial models.
Recreation -

All water bodies will be conserved in Atal Nagar including three major lake front developments which shall cater to provision of modern recreation spaces, sports tourism and nature tourism. Asia's largest man-made Jungle Safari is functional in 800 acres. Botanical garden is functional in 153 hectares. The Central Park and Central Boulevard are developed as modern, activity oriented parks for all age groups. Purkhauti Muktangan as a cultural site is spread across 170 acres and an International Cricket Stadium with a capacity of 50,000. 18 Hole Golf Course in 139 acres comprising Golf Academy, Golf Club, Resort, Sports Complex, Residential Villas. Mayfair Lake Resort is in Sector 24, Laser and Musical Fountain with a seating capacity of more than 400 people. Immersive Dome is built with a German Technology with five projectors to exhibit with a seating capacity of 150 people.
Education

-NRANVP is focussing on developing high class educational infrastructure which will serve the entire state. Special areas have been marked to setup schools and colleges. Some of the well-known education institutions like HNLU, IIM, IIIT, IIMT, HMI and ITM University, AIIMS have already made their presence in Nava Raipur Atal Nagar.

Health

- NRANVP is becoming the regional centre for health facilities. Operational facilities are Sri Sathya Sai Sanjeevani Hospital, AIIMS, BALCO Medical Centre, nursing homes, dispensaries, 30 bedded Government Hospital in Sector 25, and 10 bedded Government Hospital in Sector 34 etc.
ICT enablement of the smart city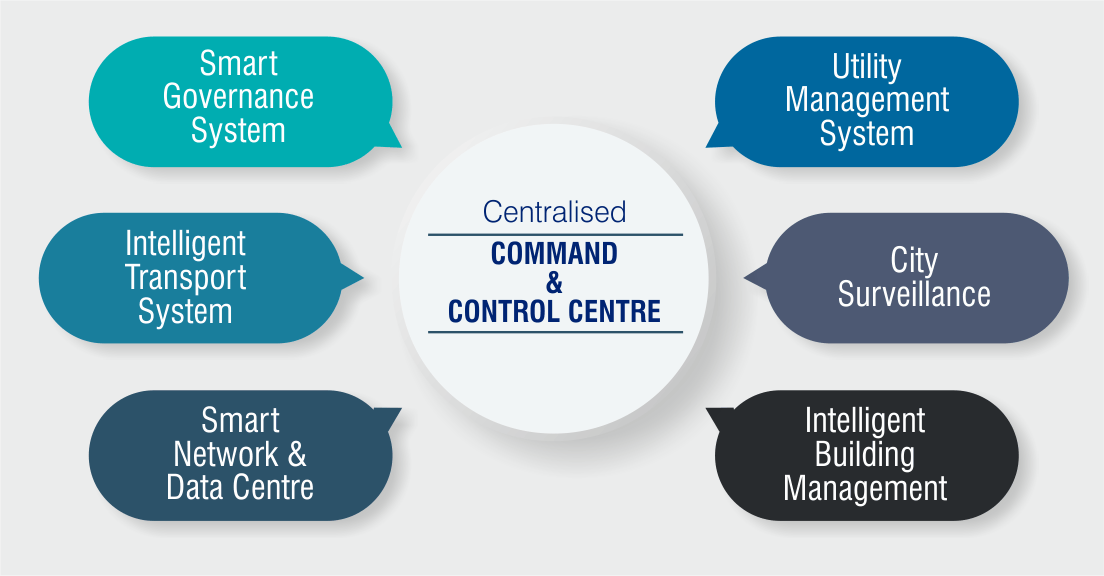 Program Summary
Nava Raipur Atal Nagar – India's first smart greenfield city of 21st century aspires to become a sustainably Green and Functionally Integrated Capital City promoting happiness to all. It is also creating a vibrant ecosystem for entertainment, business and innovation. Nava Raipur Atal Nagar has now become the benchmark for all smart cities across nation by completing first of its kind integrated Smart city project with the following features:
Smart Governance
Utility Management
City Surveillance
Intelligent Transport Management
City Connectivity & IT Infra (Data Centre)
Integrated Building Management System
Integrated Command & Control Centre
Citizens to get a single window access to all NRANVP services through differently-abled friendly portal and mobile app. From annuity payment to Project Affected people, to land or house allocation through various modes, to getting building permission online by uploading plans, applying for new water connection and online payments, filing an RTI application or a grievance, everything shall be done here within the convenience of one's home without visiting ANVP office. This smart city has now become safer with analytics driven surveillance and continuous monitoring of incidents. From slip and fall detection at bus shelters to abandoned baggage, system sets off an alarm for all of these. Atal Nagar smart city project also encapsulates utility management which includes water SCADA, electric SCADA and streetlight. This helps Atal Nagar to provide 24*7 uninterrupted supply and early restoration of the services in case of an outage event remotely and centrally. With advanced planning and analytics features being implemented, these connected utility systems will give ANVP insights for its utility planning making the city more resilient. The city is well connected through dedicated OFC network, laid across 130 km in the city which serve as the backbone for the future services and expansion.
Smart Governance (Application) including Common Portal
It provides citizens a single window access to all NRANVP services through a common portal within the convenience of one's home without visiting the NRANVP office. Citizens get improved service levels. They can also register complaints and grievances through web portal, mobile app or helpdesk.
City Surveillance
High end surveillance cameras have been installed at strategic locations across Nava Raipur Atal Nagar and at indoor location across Paryavas Bhawan and ICCC, these cameras are monitored in real-time through the Integrated Command and Control Centre (ICCC) and are equipped with video analytic features. In view of the safety of commuters at the BRTS transit shelters, all the existing cameras at the shelters have also been integrated to the ICCC.
Water Utility Management System
The SCADA based system is centrally monitored and controls water supply and distribution system of Nava Raipur Atal Nagar. It generates alarms to city managers and field technicians in case of deviation from threshold values. As of now, the scope is right from our raw water source at Mahanadi River up to Sector level. The system is capable enough to scale up and include more sectors as the city population increases. The system shall allow to remotely assess and decide the flow of water supplied to households through control of valves and pumps. It shall help in monitoring the flow, pressure and quality of water supplied to the citizens' right from source till sector level. This results in safe and pressurized 24*7 water supply to citizens.
Electrical Utility Management System
The SCADA based system is capable of monitoring 5 substations in the city as per current population. The main idea is centralized monitoring of key parameters like voltage and control of distribution line from 132 KV substation to 33/11 KV substations and distribution transformers at sectors which finally provides power to the households. Nava Raipur Atal Nagar electrical distribution network is based on ring main unit model. In case of outage, the system can supply the power through alternate line remotely from the ICCC. This would enable uninterrupted electrical supply and ensure that the citizen household appliances are also protected from voltage fluctuations.
Intelligent Transport Management System (ITMS)
Automatic number plate recognition system has been deployed across 8 entry/exit points of Nava Raipur Atal Nagar and speed detection system has been deployed at 10 strategic locations across Nava Raipur Atal Nagar. Both these systems are seamlessly integrated with the ICCC and provide real time alerts in an event of an over speeding vehicle (moving above the allowed speed limit) and in an event of hot listed vehicle being detected. Both the systems will be integrated with the e-challan system.
Integrated Command and Control Centre (ICCC)
An Integrated Command and Control Centre has been setup for monitoring and controlling of all systems discussed above in one platform. ICCC is the centralized hub of integration for various components envisaged under the Atal Nagar Smart City System. It acts as single roof for all the data capturing processing, consolidation reporting, monitoring and control. Teams of various stakeholders shall operate on their respective areas from ICCC. The integrated GIS based Command and Control Centre (CCC) comprises workstations, video wall, CCC application, contact centre etc. to manage city operations.

Smart Network
The objective of smart city network was to develop a robust network to meet the present and the future requirement for the Atal Nagar Smart City. In order to meet the smart city network requirements, a robust and resilient captive fiber network of almost 120 KMS is laid at pan city level. At remote locations, wireless communications via GPRS has been utilized.
Smart Building Management
Intelligent Building Management System has been installed and configured for Paryavas Bhawan (Nava Raipur Atal Nagar office) and Integrated Command and Control Building which shall monitor the building's mechanical and electrical equipment such as ventilation, lighting, power systems, fire systems and security systems.
Inauguration of ICCC
The Integrated Command and Control Centre of India's first Greenfield Smart City Nava Raipur Atal Nagar was inaugurated by Hon'ble Prime Minister Shri Narendra Modi, Shri Hardeep Singh Puri, Minister of State, Housing and Urban Affairs and Hon'ble Chief Minister of Chhattisgarh, Dr. Raman Singh were also present on this occasion.
Impact
Benefits to citizens:
Single window for all citizen services like land allotment, water connection billing and payment, BRTS travel planning, RTI, Grievances etc. through mobile app and web portal
Improved quality of services and enhanced service levels through faster turnaround on citizens requests and applications
First smart city project with user friendly applications for the 'differently-abled'
Management of rehabilitation annuity payment to Project Affected People (PAP)
Automation of building permission process
24*7 uninterrupted water and power supply with real-time monitoring through state-of-the-art electrical and water SCADA systems
Continuous city surveillance through bullet and PTZ cameras, to ensure citizen safety, act as deterrent to criminal activities
Enforcement of traffic rules with Speed Detection and ANPR cameras .
Benefits to City Managers:
Bringing accountability into the city administration with monitoring CxO level through dashboards and by citizens through tracking
Real-time assessment, planning and management of Electrical, Water, Sewerage system
Optimal management of assets and services through advanced utility services like Distribution Management System, Outage Management System and Water Network Optimization
Enhanced decision making through business analytics, reporting and tools
Centralized integration of all tracks at Integrated Command and Control Centre to act as an enabler during exigencies
GIS mapping of existing infrastructures/ assets for easy management and planning of new infrastructure elements
Online Incident tracking and management
On-the-fly approvals and city KPI dashboards to ensure efficient administration
120+ km of captive fibre network, will serve as backbone for future IT enabled services
Scalable systems to cater to further needs of city in terms of utility management (electrical, water, sewerage), city surveillance, street lighting etc.
Smart City Features
Nava Raipur Atal Nagar is one of the fastest growing smart cities in the world. The reasons behind this are:-
Zero waste discharge city
Water is conserved and recycled for irrigation and waste disposal.
Utility management system
Real-time remote monitoring of water, electricity, sewerage as well as adequate supply.
Affordable modes of public transport
Public bike sharing and Rapid Bus Transit System for the public.
Smart governance system
Web portals and apps for citizens to share feedbacks and grievances
Underground electrical supply
SCADA (Supervisory control and data acquisition) compliant power distribution latest technology LEDs and 1MW solar power farm.
Well connected
It is 8 kilometers away from Swami Vivekanand Airport and 15 kilometers away from the center of Raipur city.
Underground water supply
24x7 supply network integrated with SCADA.
Integrated and centralized command & control centre
The ICCC is revolutionary and serves as the backbone of the city by supervising, consolidation reporting and processing analytics of the data.
Green-field city
Approximately 30% of the Nava Raipur Atal Nagar is reserved for afforestation purposes, which makes this city truly smart
Mandatory rainwater harvesting
Compulsory installation of rainwater harvesting system in all government buildings (individual development levels).
City surveillance system
Speed violation detection cameras, fixed box & PTZ cameras at entry and exit points.City Surveillance System is regarded as an integral part of Command and Control Centre (CCC) at Atal Nagar. These state of the art systems provide assistance in detection and reverberation of incidents. This in turn helps to curb the criminal activities in the city in order to ensure the safety and security of the citizens.